Google AdWords continues to rule the Pay-per-Click (PPC) advertising market with an 88% market share of desktop searches in the UK. However, Microsoft Bing Ad's are increasing challenging Google's monopoly with a steady growth in popularity, which saw them pass the 10% mark in market share recently and makes advertising on Bing increasingly attractive.
Bing's Growth in Popularity
Bing is the now the default search engine on a multitude of devices, therefore if a user wishes to switch to Google's search engine they have to do so manually, this accounts for its ever growing presence.
With the ongoing rise in Windows powered mobile devices that 10% share will undoubtedly increase and the potential for worldwide Bing users is exponential, given that Windows 10 has been downloaded in excess of 67 million times already.
Who are Bing's Users?
Via Pointit.com <\p>
A recent study of search engine users found that Bing is more popular with females and a more mature demographic (35 and over). This is good news for eCommerce sites who could see a greater ROI  as this group tends to have higher earnings and therefore make higher value purchases. If this is your target market then there are very good reasons for advertising on Bing.
Cost-Per-Click
Whilst Google AdWords benefits from a much larger audience, Bing has a lower CPC (on average 33.5% cheaper). This is because there is less competition for each keyword, plus fewer advertisers means that Click-Though-Rates (CTR) are likely to be higher. This is especially beneficial for businesses with a small PPC advertising budget and could be a factor when deciding where this money is best spent.
Eye-Catching Ads
If your products or brand is very visual then advertising on Bing could be advantageous. It has a unique Image Extension which allows photo's to appear in-line with search ad's meaning your products can be showcase in the most visually striking way. Inserting pictures is a sure-fire way of attracting more clicks enabling users to see exactly what you have to offer which is ideal especially when they're searching for a specific product. Bing allows you to upload up to 6 images next to your ad-copy which could be very profitable given that 65% of people are visual learners.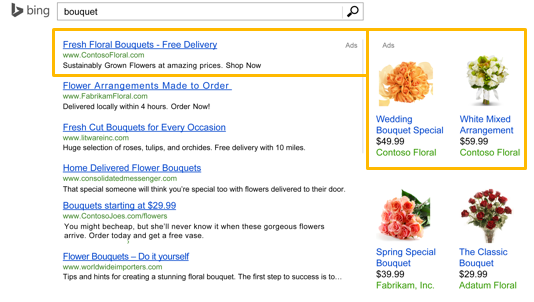 Straightforward Expansion
If you already use AdWords campaigns it is simple to expand into Bing. The Bing Ads menu has a category called 'Import Campaigns' with a drop-down where you can select 'Import from Google AdWords', making this task quick and simple! However, don't rely on default settings if you want to make use of Bing's unique features (e.g. Image Extensions), take the time to optimise your campaigns.
Given AdWords market share it is natural that it is the first port of call for most PPC marketers, however Bing is increasingly growing in popularity and it would be foolish to completely ignore the potential of advertising on Bing. Spreading your Ad spend over both platforms will allow you reach more customers.